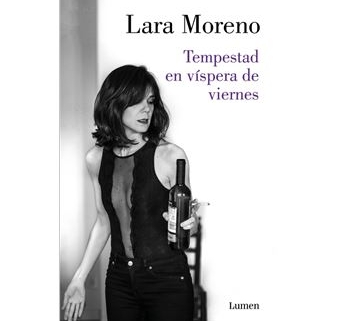 Tempestad en víspera de viernes
Tempestad en víspera de viernes is the uncomfortable and hypnotising gaze of the Spanish Kill Bill of verse.
If poetry in Spanish needed a revulsive, readers will find it in Lara Moreno, who compiles her previous poetic work in this compilation published in 2020, adding to it the works she has written during these claustrophobic years of crisis and pandemic. A Molotov cocktail of feelings and subjectivity without puerile whining thrown against the gates of heaven.
Madrid. A single horizon of freedom: to call upon the arrival of the weekend to burst through the vomitorium of its streets and pour the anxiety of our days into them like someone who unzips their fly, incontinently, at the first street corner they come across. Such is the scenario of the author's life for almost 20 years now. Lara Moreno, a novelist who narrates as if she were writing poetry, writes poetry as if it were prose. In it, she tells us a great deal; many betrayals suffered or orchestrated, with rage and viscerality more often than not, even with improbable sweetness in the lines of some of her poems.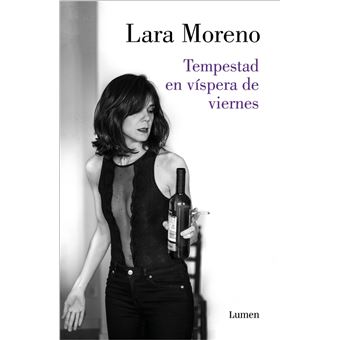 At once disturbing and refreshing at the same time, this author has the virtue of dwelling on life's intimate miseries, without apologies or glossing over the alibis of her partners in crime. Uncomfortable and liberating, Tempestad en víspera de viernes depicts the chaos of feelings provoked by the sharpness of desires taken one at a time. With this compilation, Lara Moreno focuses intently with a spotlight, fluorescent, yes, but above all reflective and aimed at those who don't want to look at themselves in the mirror. 
As well as, it is not an outlet, it is daring. Behind this light-hearted and impulsive poetic work lies a very intelligent, very strategic proposal. As a writer, she maintains a balance of those who have not yet managed to derail the woman who hangs precariously over the abyss.
The author
Lara Moreno, born in 1978, has not yet been translated into any other languages. Her voice clearly points to one of the hallmarks of the generation that is only now entering Spanish society: a complete lack of complacency.
"Who reads ten centuries of history and doesn't close it when they see the same things with a different date?"
León Felipe
Read books: use the master key that opens every door
For as long as the world has existed and people have inhabited and travelled it, basically the same things have always happened, one generation after another. Since ancient times, books have been telling stories with their unhurried voice. Literature is the sharp and infallible microscope invented by human beings to look at themselves in the mirror of their conscience without being able to look away. The kaleidoscopic truth of literature hypnotises like an abyss and liberates like someone growing wings. Do you want to learn more? Read books. Do you hope to understand current affairs beyond their superficial disguise? Read books. Do you feel like a puppet in the gullible and indistinct daily crowd? Read books.
https://www.tradandgo.com/wp-content/uploads/2023/02/Tempestad-en-vispera-de-viernes.jpeg
340
340
Agencia de Traducción
https://www.tradandgo.com/wp-content/uploads/2023/01/Diseno-sin-titulo-2-min.png
Agencia de Traducción
2023-02-27 01:15:50
2023-02-27 01:27:09
Tempestad en víspera de viernes